About this web site:


This web site is a collaborative effort between Jim Vallender and John Musgrave

December 2017 -
I created this cover archive back in 2005 (see below for old notes).
I've heard from lots of jumpers over the past 12 years many of which contributed photos
of missing issues. I was recently contacted by Jim Vallender who contributed many issues
as far back as 1957. Jim was a very active Skydiver (
USPA Lifetime member ,
C3359,
D1937, I/E, Master Rigger, DZO in Michigan, photographer and Magazine/History collector)
from First jump (civilian) in April of 1965 to jump 2050 at an exhibition in January of 1980.

His collections are extensive including all the Skydiver, Spotter, Skydiving, DZ USA, most
of the Parachutist and many other US publications as well as Canadian, New Zealand, British,
German, Australian.

Jim found this web site this year and contacted me about enhancing it. We've been busy for
the past month, Jim doing the scanning while I write the web pages. He came up with the idea
of adding photo credits and contents for many of the older issues, mainly before 1980.

Jim also talked me in to creating similar web pages for PARACHUTE, DZ-USA, and Sky Diver
magazines. (there are links to those publications on the main menu).If you want to send him a
shout out, you can email him at jvall1941@gmail.com (or just click here)

Thanks Jim!!!!!!

Meanwhile I finally hung it up in 2015 after 40 years and 4500 jumps. (first jump 1975). Jumped in
Texas in the 1970's including a few years at the Ft Hood Sport Parachute Club jumping Huey
helicopters (courtesy of the US Army). Then jumped mostly in the midwest (including Couch Freaks!)
with the Yo Mama's. Spent most of my skydiving career shooting video, belly flying, dabbling in
CRW, 1 BASE jump (bridge day 2008),and 1 wingsuit jump. Went to the World Freefall Convention
in Quincy Illinois multiple times (DC-3's with Roger Nelson in the 80's, 727's with Don Kirlin in later
years). Probably the best was the Boogie in Bali in 1991 (C-130 Hercules!).

I only got my smiling face in Parachutist one time, but I'll take it.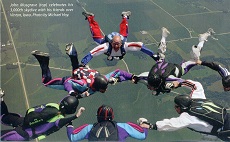 We hope you enjoy the site! (wanna email me? click here)






(notes from 2005)




43 (or so) years of PARACHUTIST

magazine



If you have access to any old issues of PARACHUTIST and want to contribute to this web site, you can scan the cover and email the file to me. Or you can send the issue(s) to me and I'll scan them and return them to you.


So why did I do this? I dunno. Just sounded like something fun to do. A buddy of mine pointed out the fact that I'm about to receive my 30 year membership certificate from USPA. Shocked the crap out of me but I did the math and, sure enough, starting skydiving in 1975 at age 22 and now, 2005 at age 52......yep, that's 30 years. So I took at look a this HUGE stack of PARACHUTIST magazines that I saved for some reason, blew the dust off of them, and thought, "Hey, I could scan them and put them on my web site!". Why? I still don't know. All I can say is that each month for the past 360 months, I always was anxious to check out the cover of PARACHUTIST. (Not that I've ever been on it).

So I sat down with my scanner and this massive pile of magazines and started scanning them. Then wrote the HTML code to view them. I figured it would take a couple hours to do this. Try 3 weeks (and at least a case of wine).

Many issues still have the mailing labels on them. I tried removing some of these but it left really ugly marks so I've left the mailing labels on many of them.

I enjoy looking back at these old covers. It reminds me how much skydiving has changed these past 30 years. Thank God that the age of chest mounted reserves, motorcycle helmets, combat boots, and round canopies is over! What hasn't changed is my passion for the sport. I've jumped every year since 1975 except 1992 (when we didn't have a local DZ). 33 years and 3300 jumps later, I still can't wait for the weekend and head for the DZ.

If you enjoy looking at these old cover photos, drop me an email and share your thoughts.

Here's to 30 more years! I wonder what the sport will be like when I'm 82?

"Doc John" Musgrave A-5179 D-13182